This week we would like to introduce you to Nick Wiseman who has just joined our Australian sales team. Some of you may already know Nick, as he is an avid Grainfather user himself, and very active on the Grainfather Users Group. We are very excited to now be working with him more closely, and look forward to tapping into his all grain brewing knowledge and ideas for the homebrew market.
To kick things off, here is one of his recipes he has developed on the Grainfather, a Choc – Coffee Porter.
Choc – Coffee Porter – By Nick Wiseman
This porter uses the base style of a brown porter with a very late addition (only minutes from finishing the boil) of pure unsweetened cocoa and a couple of shots of fresh espresso. It has upfront traditional brown porter flavours, followed by a noticeable coffee and chocolate hit on the back of the palate.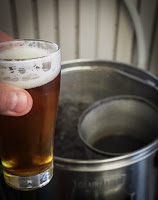 OG: 1.047 SG
FG: 1.014 SG
ABV: 4.5%
Estimated Colour: 50.2 EBC
Estimated IBU: 30.8 IBUs
Boil Time: 60 minutes
3.5 kg Pale Malt, Maris Otter
450 g Caramalt (Joe White) (50.0 EBC)
300 g Brown Malt (Simpsons) (500 EBC)
250 g Chocolate Malt (689.5 EBC)
220 g Oats, Golden Naked
20 g Galena (11%) 23.9 IBUs 60 min
25 g Goldings, East Kent (5.10 %) 6.9 IBUs 15 min
0.5 tsp Irish Moss 10 min
0.5 tsp Yeast Nutrient 10 min
80 g Double Dutch Cocoa 5 min
120 ml Coffee (Expresso Shot) 1 min
1 pkt Mangrove Jack's British Ale Yeast
I did a step mash, but single infusion at 67 degrees C will suffice. I personally like to add a couple of packets of yeast but I will leave that up to you to decide! Enjoy.