It's an old saying amongst brewers that, 'the brewer makes wort, the yeast makes beer'. What they mean by this is that yeast choice, proper pitching rates and healthy fermentation conditions are some of, if not the most important part of brewing. We caught up with Dave from the UK team to see just how true this really is.
Split batch fermenting with different yeasts is probably one of the most popular of all homebrew experiments – and with good reason. Every brewer knows to some extent that your choice of yeast has a massive effect on the flavour profile of your finished beer.
With the new range of 15 dried yeasts available to me I decided to select a few and do a split batch fermentation to get a good idea of their contribution to my beer and get a better idea of what future brews I want to use them in.
I chose;
M36 Liberty Bell – suitable for hoppy and distinctive style beers with light, delicate fruity esters (in particular pear, some strawberry and kiwi fruit) whilst helping to develop malt character.
M31 Belgian Tripel – provides spice, fruity esters, phenolics and alcohol, this strain is very attenuative with a high alcohol tolerance.
M47 Belgian Abbey – An exceptionally fruity yeast with hugely complex esters – this strain is highly flocculant.
M15 Empire Ale – Suitable for a variety of full bodied ales with exceptional depth – ferments with full, rich dark fruit flavours.
As for my recipe, I wanted to go for something simple and tasty that would let the yeast character dominate. As I was using two of the new Belgian strains I thought a golden ale would work well. I settled on the following;
YEAST SPLIT GOLDEN ALE
OG; 1.051 (predicted 1.049)
FG: 1.012
ABV: 4.8%
IBU: 33.84
SRM: 6.08
BU:GU: 0.69
Fermentables
4.29 kg Maris Otter (90.1%)
0.28 kg Caramalt (5.9%)
0.19 kg Wheat (4.0%)
Total: 4.76 kg
Hops
9 g Nelson Sauvin @ 60 minutes
40 g Chinook @ 0 minutes
40 g Centennial @ 0 minutes
50 g Simcoe @ 0 minutes
So I brewed a full 23 L batch of my Golden Ale and split it into four fermenters at 5 L in each fermenter, leaving the last 3 L as losses. My starting gravity was 1.051, two points over my predicted gravity, and I pitched 1 sachet of yeast into each fermenter.
On Day One the gravities read;
M36 Liberty Bell – 1.046 (5 point drop)
M31 Belgian Tripel – 1.037 (14 point drop)
M47 Belgian Abbey – 1.045 (6 point drop)
M15 Empire Ale – 1.028 (23 point drop)
I took another reading after four days and made some notes about the taste of the beer. The gravities were;
M36 Liberty Bell – 1.011 (40 point drop) – still very sweet tasting
M31 Belgian Tripel – 1.007 (44 point drop) – very estery/banana flavour
M47 Belgian Abbey – 1.013 (38 point drop) – smoother (less bitter than Tripel) but still estery
M15 Empire Ale – 1.018 (33 point drop) – Best hop aroma, most like a classic golden ale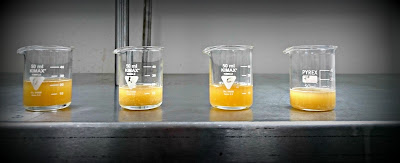 L-R – M36 Liberty Bell, M31 Belgian Tripel, M47 Belgian Abbey, M15 Empire Ale
Each of the samples was pleasant in it's own way but completely different from the other samples. I was very impressed by just how different the yeasts were making the beer.
My final gravity was only slightly different from my Day Four reading so I bottled my beer. My tasting notes after one and a half weeks in the bottle are below (a little soon to drink but I was eager to see what the yeasts had contributed);
M36 Liberty Bell – 1.009 (42 point drop, 5.5% ABV, 82% apparent attenuation) – This version of the Golden Ale was the clearest of all the different beers with a nice, mellow bitterness and a tasty malt character though there was some diacetyl present but if I'd left this in the bottle longer this would be a very nice, drinkable golden ale.
M31 Belgian Tripel – 1.004 (47 point drop, 6.2% ABV, 92% apparent attenuation) – a lot of banana and clove character on the nose which was very nice. The taste was extremely dry, with my notes reading almost 'brett' level dryness. This was a really interesting version of the beer and I'd love to do some higher alcohol Belgian ales with this in the future.
M47 Belgian Abbey – 1.009 (42 point drop, 5.5% ABV, 82% apparent attenuation) – A slightly 'yeasty' smell but I described this as a good example of a 'Belgian' golden ale. It was easily drinkable with nice but not overpowering yeast esters. If I did this again I'd probably increase the hops (but in this instance I didn't want them to interfere with the yeast character).
M15 Empire Ale – 1.017 (34 point drop, 4.5% ABV, 66% apparent attenuation) – The Empire Ale continued to have the best hop aroma of all of them and despite the high finishing gravity the beer didn't taste cloying. A sessionable ale though, I could definitely see this yeast strain working better in something like a sweet stout.
I was very pleased with how differently all the beers tasted and I'm looking forward to making recipes that play to their relative strengths in the future and experimenting with the rest of the range!'
Split batch fermenting is a great way to run several experiments without having to brew multiple batches or waste a lot of ingredients. If you're looking to get to grips with the new Mangrove Jack's Craft Series Yeasts that are available from our online store now, then split batch fermenting could be a great option.